Give a Gift & Light the Way for Saint Mary's
Celebrate a friend or loved one this Christmas with a donation to the Herald of Light display at Asbury Ridge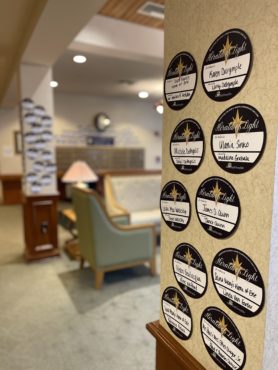 Much like the light from the star of Bethlehem, which led to a great gift of love, you can light the way for our community. Your generosity shines brightly during difficult times and is an act of love for our mission.
A donation from you is essential in helping Saint Mary's do what we do best - make a difference in the lives of our staff, residents, and families by fostering a loving and caring community for seniors.
Will you make a donation and be a Herald of Light for Saint Mary's this holiday season?
In celebration of your generosity, we'll share your light with others. From December 1 through January 6, Saint Mary's will dedicate a tribute card and hang it in the lobby at Saint Mary's at Asbury Ridge as part of the Herald of Light display. It is heartwarming to watch the lobby fill with names of those who are near and dear to our heart, and to know that each gift furthers our mission. Please, consider a gift to Saint Mary's and help us fill our lobby with reminders of love and light again this year!
Be a Herald of Light! Make your gift by December 31st
Herald of Light gifts can be made in memory of dearly missed loved ones, in honor of those who inspire us, or simply in support of our mission. Every gift, no matter the size, makes a difference!
Your donation is an act of love for our mission, lighting the way by supporting Saint Mary's! Select your gift designation below to make your donation securely via credit card.

---
If you have questions about making a Herald of Light gift, please contact: