Think of it like this – you're gaining a 34-acre backyard but you don't have to do any of the work!
Saint Mary's at Asbury Ridge offers numerous amenities that help make life enjoyable for our residents. We understand that most people would prefer to live in their own home, so we do our best to make sure our "home away from home" has everything our residents need and want.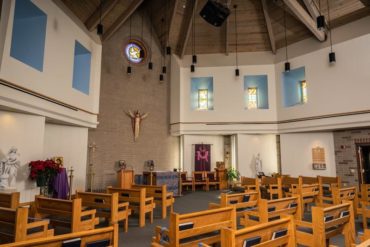 A Community of Your Own
While it's true that you might be downsizing your space, you're gaining an entire community that's just outside your door.
Enjoy a meal in one of our formal dining rooms that offers full service or visit in a more casual setting outside St. Joe's Café. Pick up a greeting card or small trinket at our gift shop or peruse the rows of books in our library with computer access. A small exercise room is available and on-site hair salons offer beauty and barber services with a licensed hairdresser.
Take some time to reflect or attend a religious service, including daily Mass, in our bright and airy Chapel. Everything you need is all in one place!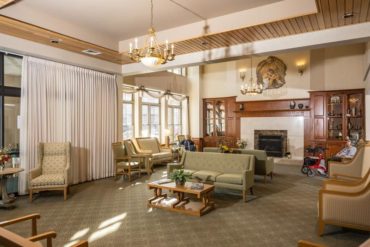 Areas to Gather
Every resident room is private and spacious enough for friends and family to visit, but our campus also offers a number of areas for gathering! Our lobby is usually a bustling place where visitors are greeted, residents are getting their mail or reading the newspaper, and friends are chatting by the fireplace.
Each area of care has a dedicated recreation space for activities and socializing. A multi-purpose room, Uht Hall, is also available for family gatherings and is equipped with a kitchenette. At the end of most hallways, you'll find a lounge filled with natural light that might even contain a half-finished puzzle waiting for the next person to give it a try.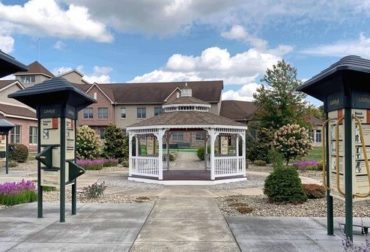 Outdoor Lifestyle
Our campus is nestled in a location that offers privacy and an outdoor retreat for residents. With multiple courtyards, patios and benches, it's easy to get outside and enjoy the beautiful landscaping accomplished by our groundskeeping team.
A gazebo in the back of our campus also offers a shady spot on a nice afternoon and serves as a place to relax and take a break when using the outdoor exercise circuit and putting green.
---