At Saint Mary's, we're all about you and the way you want to live — whether that's keeping a full social calendar or enjoying some privacy in your own room.
What might a day living at Saint Mary's look like?
Maybe you'll sleep in, enjoy a cup of coffee at St. Joe's Café, grab lunch with some friends, take an art class in the afternoon and spend the evening reading a book from our library or attending a special event. Whatever you choose to do – or not to do – the choice is yours!
---
Social Activities
Our dedicated Activity team provides opportunities for residents to socialize, stay active and stay engaged. Activities are scheduled seven days-a-week and cover a range of interests including book club, manicures, bingo, card games, movies, art classes, birthday parties, trivia and more. Special trips and outings into the Erie Community are offered based on weather conditions and special entertainment and event programming is planned throughout the year.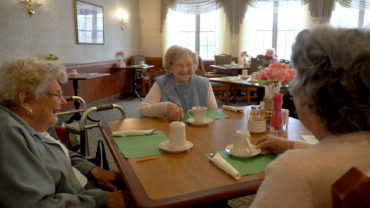 Dining
No more dishes or trying to plan something for dinner! Saint Mary's offers our residents full-service, restaurant style dining. Breakfast, lunch and dinner are included in the resident's monthly fee (except for Carriage Home residents) and each nutritious meal is served in the dining room where residents can socialize. Simply choose from a menu with multiple selections and our hostess will serve you at your table!
Transportation
Residents who need transportation to-and-from medical appointments can request a ride from Saint Mary's. There is no fee for this service so long as the appointment is within a certain geographic location. Our friendly staff will drive you and if needed, we can send someone with you to support you during your appointment. Transportation is currently provided on Tuesdays, Wednesdays and Thursdays.
Residents who still drive can have a car on-site and come and go as they please. While we do not offer covered garages, a Residential parking lot is available at no extra cost.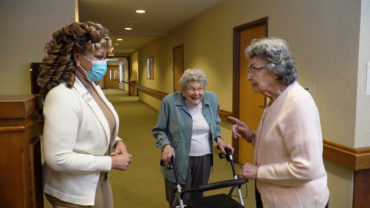 Security
Residents and their families have peace of mind knowing Saint Mary's is a secure campus and that there is always someone around. All entrances are monitored and secured 24-hours a day and medical alert systems notify our team so they can respond quickly.
Our team of receptionists, staff and security personnel is around to answer questions and address any concerns while monitoring who is in the building.

Health & Wellness
Exercise class, chair yoga, tai chi and ball toss are just some of the ways we help our residents lead a healthy lifestyle by incorporating strength and movement into their daily routine. But we know that wellness isn't just exercise – our activity team can offer supportive services like music therapy, our dietitian can help create a therapeutic diet, and our religious clergy can support the spiritual needs of residents through Catholic and Ecumenical services. Our approach to health and wellness is to make sure all your needs are met – physical, social, spiritual and emotional.