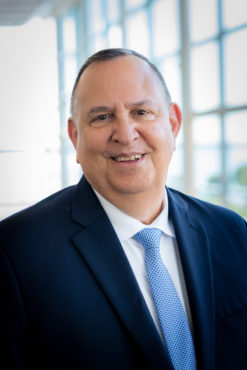 Bonace to retire July 2024 after more than twenty years of service to Saint Mary's
Saint Mary's Home of Erie and the Board of Trustees have announced that President/CEO Allen Bonace plans to retire from the organization July 1, 2024 after five years in the role. Bonace's decision to retire will end a remarkable career of over 20 years of service to Saint Mary's.
The Board of Trustees will proceed with a formal search for his successor and anticipates engaging an executive search firm to conduct a local and national search for the next President/CEO of Saint Mary's Home of Erie.
"Allen has given Saint Mary's years of outstanding leadership and accomplishments. Throughout every decision he has shown his true belief in Saint Mary's mission of Loving to Care," stated Ron Seigley, Chairperson of the Board of Trustees for Saint Mary's. "We on the Board of Trustees will miss his inspiration and friendship but wish him a long and enjoyable retirement."
Bonace joined Saint Mary's in 2003 as the Director of Nursing at Saint Mary's at Asbury Ridge. He advanced to the position of Vice President for Special Projects and then Chief Operating Officer prior to his appointment as President/CEO in June of 2019. Bonace was the first lay person to ever lead Saint Mary's Home of Erie; until his appointment the role was previously held by religious members of the Sisters of St. Joseph of Northwestern Pennsylvania of which Saint Mary's is a sponsored ministry.
During his tenure, Bonace guided the organization through the challenges of the COVID-19 pandemic and the sale of its former campus, Saint Mary's East. He made impactful strategic and operating decisions that positioned Saint Mary's for continued growth and success. Perhaps the most tangible part of his legacy has been the expansion of the Carriage Homes at Asbury Ridge and renovations made to offer more senior living options in the Residential Living and Personal Care portions of the facility. Bonace has stewarded the organization with clear vision, inclusive collaboration, and exceptional leadership.
"This is a bittersweet moment for me. My twenty plus years with Saint Mary's have been one of the highlights of my life. It has been a privilege to serve the residents, their families, our employees, and the Board of Trustees," reflected Allen Bonace. "I hope my presence has served to enhance Saint Mary's mission and vision."
While identifying his successor over the course of the next year, Saint Mary's and the Board of Trustees will keep the community updated as the process progresses.
---