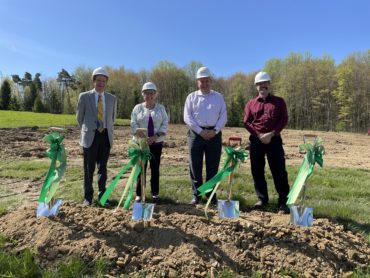 Saint Mary's Home of Erie officially broke ground on the expansion of the Carriage Homes at Asbury Ridge in Millcreek Township on May 11, 2022. The Board of Trustees approved the addition of eight new Carriage Homes to help combat the demand and waitlist of the current 26 homes.
Christopher Coughlin, Board of Trustees Chairperson, along with Sister Mary Drexler, President of the Sisters of St. Joseph of Northwestern Pennsylvania, and Robert Orton, VP of Operations of Saint Mary's, joined Allen Bonace, President/CEO of Saint Mary's, for the groundbreaking of the new independent living homes.
"We have a large number of people on a waiting list, wanting a home," stated Bonace. "These eight additional homes will help meet the needs of seniors who desire an independent lifestyle while being part of a retirement community."
In 2006, Saint Mary's Leadership debuted the idea of the Carriage Homes to extend the continuum of care offered at Saint Mary's. The independent living homes help begin the transition into the CCRC lifestyle, offering residents a supportive community of neighbors who value their independence yet want the ease of maintenance-free living.
The eight new homes will be built in one of three model designs that already existing on campus. These models, known as The Derby, The Preakness and The Belmont, range in size from 1,440 to more than 1,950 square feet of living space. Every home features a spacious living area, a four-season sunroom, an attached two car garage, a master bedroom with a walk-in closet and bathroom suite, a guest bedroom and a full bathroom, and ample closet and storage space. Carriage Home residents also have use of campus amenities and gain priority access to all of the services at Saint Mary's at Asbury Ridge.
"We're very excited to complete this project and to be able to offer this service to more seniors," Bonace said. "We want the community to know that Saint Mary's is expanding and that we are not going anywhere."
The homes are expected to be completed within the next year.
If you are interested in learning more about the Carriage Homes at Asbury Ridge, please contact:
---