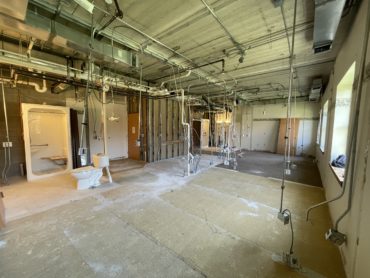 Saint Mary's will soon offer two-bedroom Residential Living apartments
Saint Mary's is paying attention to the ever-changing needs of seniors and is investing in campus enhancements needed for continued success in the Erie area. After witnessing an increase in demand for more Independent Senior Living options, the Board of Trustees approved renovations which began this fall to the Residential Living portion of the facility for the creation of two-bedroom apartments.
The 74 Residential Living and Personal Care apartments currently offered at Asbury Ridge have private baths and kitchenettes but are limited to studio style and one-bedroom floor plans. While these options work for many seniors, they don't meet the needs of everyone. The renovations will convert eight existing studio apartments to four two-bedroom, two-bathroom apartments. The newly renovated apartments will offer 800 square feet of living space as well as a full kitchen including a sink, microwave, refrigerator, range, and dishwasher. Residents in these two-bedroom suites will have the option to purchase a meal plan or pay per meal when joining other residents in the Dining Room. Rent, activities, housekeeping, transportation to local medical appointments, cable, phone and utilities are included in the monthly fee. Personal Care Services are also available for an additional fee, if or when needed.
These enhancements will help Saint Mary's continue to meet the needs of seniors who desire an independent lifestyle while having the support and peace of mind that comes from being part of a retirement community.
"Many of our past and current residents have expressed a desire for an apartment that was larger than the current inventory but smaller than a Carriage Home, I am happy to say that as a result of those conversations we will be completing the renovation of four two-bedroom apartments early this year," Robert Orton, Vice President of Operations stated. The new apartments are expected to be completed and ready for occupancy in early 2023 and have already gained interest from both current and prospective Saint Mary's residents.
---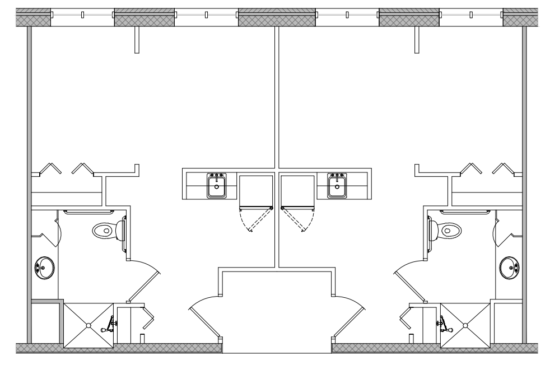 Before: The existing floorplans of two Studio Apartments which will be combined to create the footprint for the renovated apartments.
---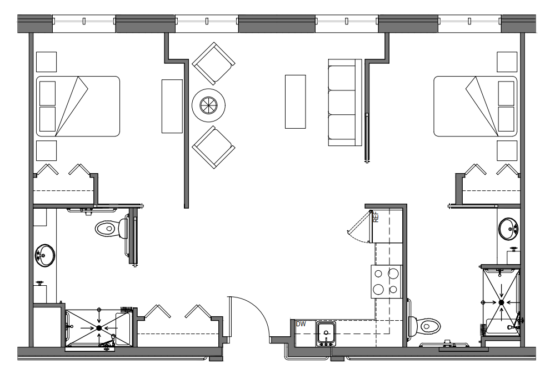 After: Coming Soon! The renovated two-bedroom, two-bathroom floorplan will offer a full kitchen and central living area.
---