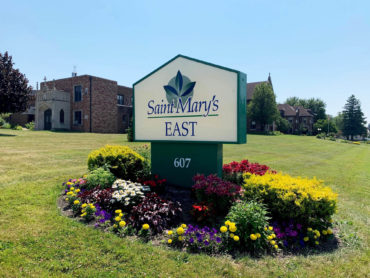 After much consideration and analysis, in February of 2021, the decision was announced to sell Saint Mary's East to an affiliate of Hill Valley Healthcare, a respected and national operator that specializes in skilled nursing facilities. In choosing Hill Valley Healthcare, the Board of Trustees of Saint Mary's placed the highest priority on finding an organization that shares values aligned with what Saint Mary's has built at the East campus. The chosen provider is to be a strong steward of the culture that has made Saint Mary's East so special, and will be committed to providing stability to the employees and residents.
"This was an incredibly difficult decision that was not made until we explored all options," said Allen Bonace, President and CEO of Saint Mary's Home of Erie. This decision ultimately came down to a matter of finances. The Board of Trustees has an obligation to assure the long-term financial stability of Saint Mary's Home of Erie. It became painfully apparent that continuing to fulfill that obligation would require the selling of Saint Mary's East. Ongoing maintenance and needed modernization of a nearly century-old building calls for significant financial investment. At the same time, Pennsylvania's Medicaid reimbursement rates were increasingly lagging behind inflation, putting an ever-growing financial strain on the organization.
Hill Valley Healthcare has the strategic and financial resources to continue operating and modernizing Saint Mary's East well into the future. "We intend to continue to provide the wonderful and caring services that the Erie community has come to expect from Saint Mary's. We look forward to providing a continuum of care for our residents driven by positively responding to their ever-changing needs and the needs of their families," said Shimmy Idels, the COO of Hill Valley Healthcare.
Although Saint Mary's will no longer have a physical presence in east Erie, the organization is committed to remaining active partners in the eastside neighborhood. Saint Mary's believes strongly in this community—and that will not change with this sale. "This has been a tough decision. We have gone through many months of the board trying to make the decision that best matches who we are," said Sister Mary Drexler, SSJ, President of the Sisters of St. Joseph of Northwestern Pennsylvania. "While this is a sad moment for us, it's one where we see hope and promise for the future."
The sale of Saint Mary's East formally closed on June 1, 2021. Saint Mary's Home of Erie will continue to operate Saint Mary's at Asbury Ridge and The Carriage Homes at Asbury Ridge. With the sale, Saint Mary's will focus on the continuous improvement and enhancement of the Asbury Ridge campus.
---