The Ageless Remarkable Erieite Award
The Ageless Remarkable Erieite Awards are given to seniors, 75 or older, who are still active in the community and who are doing remarkable things. Recipients have an inspiring zest for life while sharing their gifts and talents in selfless service to others. Below are the 2022 Award Recipients as well as a list of all those who have been honored.
Nominations for the 2023 Awards have closed. Recipients will be announced in May.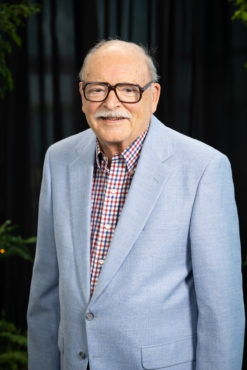 Rev. Charles Brock
Age 87
Rev. Charles Brock is the Director and Founder of the Institute on the American Dream at Penn State Behrend, where he is a senior research associate. He also serves as the Director of the Brock Institute for Mega Issues at the Jefferson Educational Society, where he is a founding member and Secretary. Charles spent many years as a teacher and chaplain at Mansfield College, Oxford University in England and is an emeritus fellow. At the First Unitarian Universalist Church of Girard, Charles is the acting minister. He also sits as an advisory board member of CORE (the Susan Hirt Hagen Center for Community Outreach, Research and Evaluation) and served as co-vice chair and a founding board member of the Young People's Chorus of Erie. An Erie native, Charles' life is inextricably linked to the Erie area where he continues to make advancements through a focus on education.
---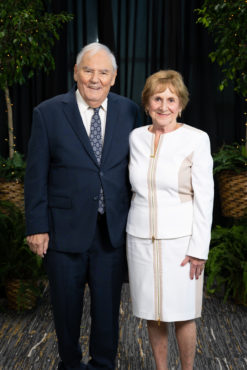 Joseph & Anita Salvia
Ages 90 & 82
Joseph and Anita are a pair who have been integral to many community organizations and programs in Erie. Joe has been involved with various boards, and has served as Erie and National President of the Wolves Club as well as serving on the Board and as Chairman of the Greater Erie Charity Golf Classic. Anita has had her hands in many things as well, having been involved with the Lake Erie Concert Choir, St. Martin's Center, and the Walk to Defeat ALS. Together, for more than 20 years, they have both shared their extensive gifts with St. Paul's Church and are well known for their role in helping to make the St. Paul Italian Festival a success. As active volunteers with the Sisters of St. Joseph Neighborhood Network, they have also been involved with supporting many events and volunteering at the soup kitchen. The couples' community spirit and uplifting attitudes have impacted many and draw others to be part of their community and service.
---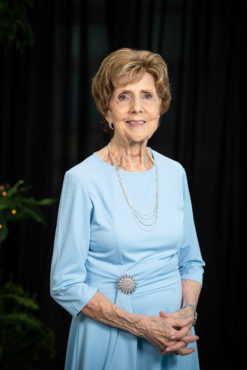 Rena Wierbinski
Age: 88
Rena Wierbinski is a dedicated caregiver and supporter of many organizations. Rena lives with her adult disabled son whom she has been a full-time caregiver for since his auto accident more than 40 years ago. Caregiving requires much of her time and energy – and she lovingly gives it. Even with limited time, Rena find ways to spread her love to the community. She has strong ties to the Barber National Institute and has volunteered at Shriner's Children Hospital where she would sit with children in the waiting room pre-surgery, at St. Jude's Church where she was on the welcoming committee and would visit with seniors in nursing homes, and at Emmaus Soup Kitchen where she would serve a warm meal and friendly smile to those in need. Rena is a supporter of the Sisters of St. Joseph Neighborhood Network, Harbor Creek Youth Center, and Mercy Center for Women, to name a few. Rena talks of the importance of helping in any way you can. Of giving, she says "my attitude is that money is something to give away. If you spend it on yourself, it only benefits one person. But when you give it away, you feel the joy of how it can benefit many people."
---
Past Recipients
2021: Thomas Loftus | Celestine "Sally" Sullivan | Dean Baldwin
2019: Corrine Egan | Bettie Vincent | Marilyn Reiser
2018: Janet Krack | Ron DiVecchio | Loretta Baran
2017: William Bloomstine | James and Mary Ann Toohey | Donna Geiger
2016: Walter and Joan Harf | Paul and Lane Nelson | Dr. Richard and Willie Rahner
2015: Joseph Prischak | F. Brady Louis
2014: Arthur Martinucci | Harry Fornalczyk | Dr. Robert Guelcher
2013: Mary Alice Brown | Lewis "Bud" Briggs | Noel Burgoyne